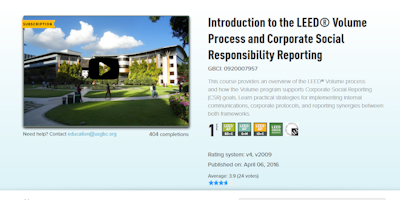 Presinar: Intro to the LEED Vol Proc. & Corp. Social Respons. Reporting
Intro

Join us every third Wednesday of the month at our 2017 USGBC MA Chapter Presinar series to learn more about innovative approaches to sustainable design and construction of buildings and neighborhoods. The presentations are pre-recorded but we always make time for an interactive and informative discussion on each presinar topic after the presentation. To receive GBCI credit, you are required to attend in person. Hope you will join us for these informative and engaging sessions!
Introduction to the LEED® Volume Process and Corporate Social Responsibility Reporting
GBCI: 0920007957
Join us for an overview of the LEED® Volume process across LEED O+M: Existing Buildings, BD+C and ID+C specialties, and how the Volume program supports Corporate Social Reporting (CSR) goals. Processes, strategies and timelines will be examined, along with benefits, challenges and "lessons learned." Learn practical strategies for implementing internal communications, corporate protocols, and reporting synergies between both frameworks.
Course Objectives:



Inspire a team in understanding their individual roles and responsibilities within a LEED Volume Program.




Implement the synergies of Corporate Social Reporting and LEED certification to maximize building occupant health and welfare.




Create and implement the three major components of the LEED Volume Program (Education, Credit Requirements and Quality Control).




Outline the structure, process, ongoing maintenance, and/or recertification of the LEED Volume Program for continual environmental efficiency.



Credits: 1 AIA 1 GBCI (LEED Specific BD+C, O+M, ID+C, GA)
https://www.usgbc.org/education/sessions/introduction-leed%C2%AE-volume-process-and-corporate-social-responsibility-reporting-1