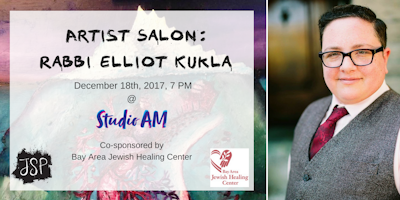 Artist Salon: Rabbi Elliot Kukla
Join us for a special evening of art and conversation with Elliot Kukla as we explore the intersection of Judaism, illness, dying, justice, disability, and healing. Elliot Kukla is a transgender chronically ill and disabled artist and rabbi, for the past ten years he has provided spiritual care to the sick, dying, and bereaved at the Bay Area Jewish Healing Center in San Francisco. His paintings explore the landscape of illness, dreaming, and being in bed, from a spiritual and Disability Justice perspective. 
The Artist Salon aims to provide local Jewish artists (especially those underrepresented in communal spaces) an intimate forum to share pieces of their work, reflect on their creative process, the connection between their art and their Judaism, and to provide the community with an opportunity to learn about the diverse ways Judaism and art making can be used to process and amplify issues of healing, community and justice.
A note about Studio accessibility: There are three steps into the building and the bathroom is not ADA. If you have other access needs please be in touch directly. 
This event will be streamed on Facebook live at www.facebook.com/jewishstudiorproject
Co-sponsored by Bay Area Jewish Healing Center