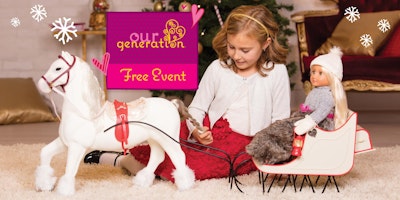 Free Holiday Event for Kids - Target Maple Grove, MN
Bring your Our Generation doll and come have fun with us under the OG tree at Target! We will be hosting a special holiday event where you'll receive a free gift for your OG doll.
While you're at the event, you can take advantage of the Target in-store Cartwheel deal "Hot Gifts for Cool Kids" and receive 15% off all 18" Our Generation dolls.
Space is limited, so register for FREE today.
Note: This activity is for OG dolls only. If you do not attend within 45 minutes of your registered time, you will forfeit your spot and gift to another guest.
FAQs
Do I have to register?
Yes, if you would like to guarantee a spot and an OG gift.  However, if registrants do not attend the event within 45 minutes of their registered time, we will begin to give their spots and gifts away to other guests (non-registrants).
What happens when I register?
You will receive an e-ticket to the email you registered with. While we can confirm your registry with your ID, having this e-ticket printed or available on your mobile device will speed things up for us.
Registration means you're guaranteed an OG gift if you attend within 45 minutes of your registered time. E.g. For a 10am sign up, please show up before 10:45am or you will forfeit your spot and gift.
Do adults need to register?
No, adults do not need to register.
Can I register for more than 1 child?
Yes, when you register, you will be given the option to select how many children will be attending with you.
Can kids under the age of 5 participate?
Yes, but bear in mind that the event is meant for children 5-10 so you may need to assist your child depending on his/her age.
Do I need to bring anything with me to the event?
Yes, bring your OG doll and bring your e-ticket (printed or shown on your phone) or the ID for the name you registered with.
Can we bring another doll to the event?
No, this event is specifically for OG dolls only.
How long is this event?
This particular activity takes approximately 10 minutes; however, wait times will vary depending on number of guests.
What happens if I attend the event much later than I registered/planned?
If you show up later than 45 minutes after your registered time, you will automatically forfeit your spot/gift to another guest.
Who do I contact for more information?
Please contact us through our Facebook page: www.facebook.com/ogdolls