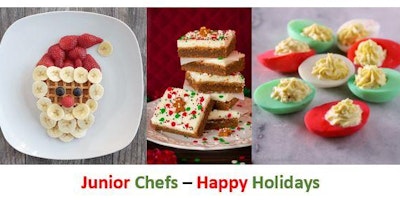 Junior Chefs - Happy Holidays
Do you have a child at home that likes to cook and learn about food? Join your Oakdale Hy-Vee dietitian in a monthly Junior Chefs cooking class! Kids will learn how to follow recipes, prepare ingredients, cook, and try new foods. They will work in small groups preparing 3 to 4 recipes and eat everything they make.
This month we will make the following recipes:



Holly Jolly Santa Waffles




Ginger Bread Bars with Cream Cheese Frosting




Deviled Eggs with a Holiday Twist



Recommended Age: 9-13 years old
Where: drop-off and pick-up in the Oakdale Hy-Vee event room across from the bulk section and behind the deli. Parents will get a 10% off coupon to save on groceries.
Cost: $15 per child
By signing up, you are acknowledging, no refund or exchanges will be given on classes for no show. If you are unable to attend class, please contact the dietitian at least 48 hours before start of class. Hy-Vee reserves the right to cancel any class that fails to attract sufficient enrollment, dietitian illness or inclement weather. In this case, a refund will be issued.
Questions? Contact Mary Brunner at 651-714-3160 or 1462dietitianmailgroup@hy-vee.com.