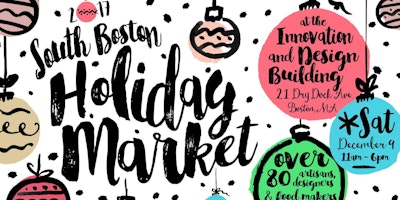 3rd Annual South Boston Holiday Market
About
An amazing one-day event that brings together the best of New England under one roof in Boston's hip and trendy design district. Over 80 of the region's top independent artists, artisans, designers and food makers will be selling their unique handmade goods. Back for it's third year, the South Boston Holiday market is the perfect one-stop-shop for personalized, handmade gifts for friends and family alike. 
Participating Vendors
Wing's World
Speakeasy Travel Supply
Solar Flair
Bijouterie Bougere
Best Bubbles Boutique
Thread & Paper
Lady Industrials
Leather Man Dan
lolas urban vintage
Simply chickie
Scatterbrain Handmade
Thorn & Bloom Perfume
Stem & Leaf Naturals
Sweetbrier Farms
Dulse & Rugosa skincare
Backyard Soap co
Soy Much Brighter Candle Co.
Skandle (Bold Print Shop, LLC)
Upper Crust Candle Company
Liquor Wicks
The Boston Sports Co.
My Urban Poncho
OriginallyYoung
KPCO
Encore Apparel Co.
2 Dogs Treats
Chocolate Therapy
Chocolats Passion
Golden Rule Honey
Red Sky Spice Traders, LLC
Bella & Harvey Boutique Bakery
Soluna Garden Farm
Hubba Hubba Foods
Jenwey Tea Co
McCrea's Candies
Lakonia Greek Products
Sweet Lydia's
Carr's Ciderhouse
Jennifer Lee's Bakery
AJ's Cupcakery
VPV Photography
Zane Ceramics
Englishman Bay Trading Company
Domesticadence Handmade
Laughing Lotus Boutique
Verde Cosi
RI Arisan Birdhouse
Charged Glassworks
Bliss USA ( Fashion for Empowerment Project)
The Happy Cactus
Sibel Alpaslan
Mean & Wroughten
The Wavertree Company
Amisha Design
Fridgedoor
Explore Local Box
Christopher Vaughn Pottery
Abby Berkson Ceramics and Illustration
Sunday Brunch Co
Moriah Okun
Freezin Hole Furniture
Lamou Design
Perfectly Nice
Arthur and Livingston
Georgia Marie Designs
dionnamarie designs
Chakras yoga jewelry
Morrison Mae
FALK Jewelry Designs
Twigs and Heather
Luxa Jewelry
elleyo
iDazz Custom Designs
Andrew Gordon Jewelry
Winter Hill Jewelry
Emily Christine Jewelry
Amy Casher Designs
Joyo
Cristina Garcia
Glam Harbor
SeaSalt Design
Kam Boustani Photography
Mike Ste. Marie Photography
JSCreates
Red + Wolf
Mae Chevrette Studio
Albertine Press
Lovepop
Bumble Belly Designs
Brother Moon Healing
Holly Wach Art
DialogueDirect
Phoenix Soul Art
F&F Inc.