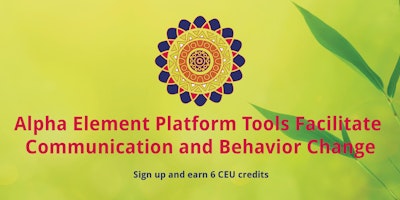 Alpha Element CEU Class
6 CEU credits for LPCC, LMFT and LicSW
Sign up before November 20 and receive a free hour post workshop consultation ($150 value).
Choose between two convenient dates: December 8 or December 14th 2017
9:00am-4:00pm
Cost: $150 - includes Alpha Element Workbook ($30 value)
Join us for this experiential event to learn more about yourself and gain a new perspective to help your clients.
Each participant will take the Interactives Style Questionnaire self-assessment and receive the results.
Find out about the Alpha Element Vitality Types: Catalyst, Torchbearer, Pathfinder and Pragmatist
Learn to use Alpha Element platform tools to teach interpersonal communication and facilitate behavior change.
Alpha Element tools redirect negative behavior patterns and facilitate a positive change process. Learn to apply the Alpha Element Vitality Types as a creative framework for clients to use to learn more about themselves and how they talk, listen and respond to others.
You gain a strategy. Your clients gain an uplifting perspective and tools to self-manage.
Presenters: Ingrid Serck-Hanssen, MBA, MS, LPCC and Marit Solheim-Witt, MA are the founders and creative force of Alpha Element. Contact Ingrid@alpha-element.com for more questions or visit www.alphaelement.com
Connect With Your Vitality And Start Thriving! Self-coach Workbook ($30 value) is included in the cost of the event.