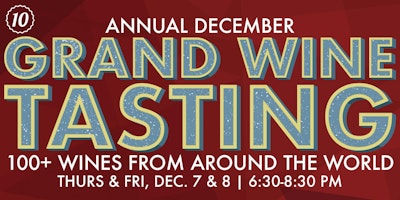 Grand Wine Tasting | Blaine
Join us for our annual Holiday Grand Wine Tasting, our 2-day wine tasting event! We will be featuring over 100 different wines from around the world, along with a few tables of both spirits and beers!
Don't miss your chance to sample some delicious treats!
Grand Wine Tasting Details
Thursday and Friday, December 7 & 8 from 6:30 – 8:30 pm each night!
RSVP to our Facebook Event Page to stay up to date with the event
Rewards Member: All Wine is 20% off November 24 – December 10, 2017
Must be at least 21 years old to attend.