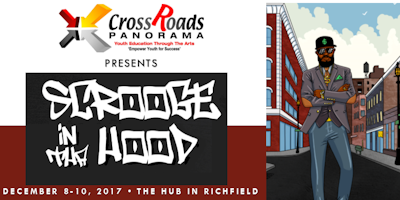 Scrooge in Tha Hood, a Classic Folk Tale with an Urban Twist
CrossRoads Panorama proudly presents Scrooge in tha Hood, a Classic Folk Tale with an Urban Twist!
Scrooge in tha Hood is a musical drama performance, adapted from the holiday classic by Charles Dickens, A Christmas Carol. This is a newer version of today's younger Scrooge, dealing with today's societal issues. This play will be able to relate to the younger generation, whereas in time past, the era of Scrooge story was depicting the early 70's.
- December 9th at 1PM & 7PM
LOCATION: The Hub in Richfield located at 80 West 66th Street, Richfield MN.
Click the following link to get your tickets today! http://bit.ly/2xn0Ro3
THIS IS OUR 9TH ANNUAL COMMUNITY PLAY AND IS SUITABLE FOR ALL AGES!
The original script is an expansion and rewrite by CRP's Founder/CEO, Dr. Joyce Marrie, from a similar adaptation to the classic tale based on the original Scrooge in the Hood by Deborah Davis Bell. Charles Dickens original version addresses emotions and relationships associated with greed. In contrast, Scrooge in the Hood is addressing greed in the context of current societal issues including violence, drug abuse, and broken relationships. The play is set within a larger community struggling with anger, poverty as a result of oppression.
Scrooge in Tha Hood is a great outreach project for the community and the Twin Cities as a whole. Scrooge in Tha Hood Play challenges team effort for the actors to be disciplined and productive. We are always looking for ways to make this production exciting. We see a great need to empower youth and families to visualize and understanding difficult life issues so they can make positive life choices. The participants will be empowered and gain a sense of self-worth by tapping into their creativity enhanced skills, finding purpose and hope now and tomorrow.
If you have any questions contact us at crossroadspanorama@live.com.