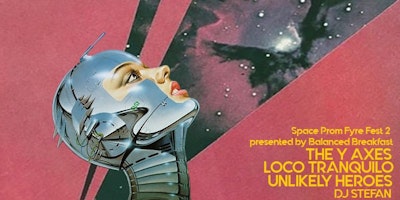 Balanced Breakfast Presents Space Prom: Fyre Fest 2
Space Prom is back, with an atropicalyptic twist! The Y Axes hosts a night of space-themed prom-themed music and events. Fyre Fest was chaos (https://youtu.be/kzRMCEP3OIU) and Space Prom's Fyre Fest 2 promises to be no different. Joined by Sunhaze and Unlikely Heroes, we might just make it out alive.
The Y Axes - We are not the future of pop music; we are pop music from the future.
Loco Tranquilo -  Loco Tranquilo is a San Francisco band based in the heart of the Mission district. Fusing hypnotic and colorful melodies with funky grooves and jazzy, primordial rhythms, Loco Tranquilo is known for moving people on the dance floor while also tapping into the inner workings of the human experience. Their distinctive style of music is made to create unity through universal feelings. During each show, they strive to create dream-like atmosphere, ushering listener on a musical journey and provoking inward sensitive exploration and communal celebration.
Unlikely Heroes - Unlikely Heroes is Hip-Hop/PunkRock band from San Francisco, Ca. This eclectic group is synthesizing Hip-Hop and Punk with beats and melody that are fresh, exciting, and long waited for. Boasting with high energy, venue rocking jams, they also find balance with spacey, vibe-y anthems to create a well-rounded experience and depth in their art form.
DJ Stefan Aronsen - DJ Stefan Aronsen has been promoting music for 10 years but is new to performing. Wasting no time, he has already had the pleasure of DJing at Great American Music Hall, Rickshaw Stop, Neck of The Woods, Elbo Room, El Rio, Amnesia, PianoFight and The Royale.

Stefan specializes in 90's Hip Hop. However, unlike most DJ's, he enjoys taking requests. As long as it keeps the crowd dancing, you can hear everything from the swing of the 20's to today's Top 40 hits.

---
And now, a little bit about PianoFight!
HAPPY HOUR MON-FRI 5:00-6:00pm
Come by early to grab dinner and drinks before the show! PianoFight has a full kitchen and bar. If you plan on dining, we recommend you arrive 1.5 hours early. Restaurant seating is first come first serve.
PARKING
Street parking is free after 6pm. We're located 2 blocks from Powell BART, numerous muni lines and there are 3 parking lots within 1 block.