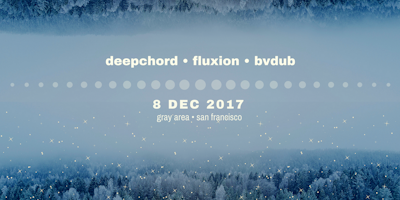 deepchord, fluxion & bvdub - Live at Gray Area
Capacity is limited | 21+ | $30 at the door. 
Gray Area presents DeepChord & Fluxion live alongside bvdub in the Grand Theater!
Gray Area is thrilled to host the world premiere of "Transformations", a new collaborative improv project from these two internationally renowned dub techno producers. The idea came out of improvisational jam sessions between the two artists.
The critically acclaimed bvdub joins the bill, a San Francisco native and globally celebrated producer. 
A one-of-a-kind night of music, not to be missed.