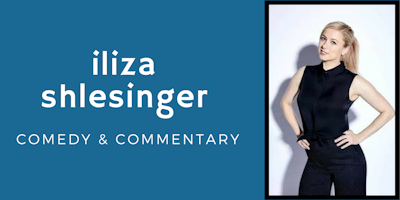 Iliza Shlesinger: Comedy and Commentary
Iliza Shlesinger, Comedian, Netflix Stand-Up Specials: "Confirmed Kills," "Freezing Hot" and "War Paint"; Creator and Host, "Truth & Iliza"; Creator and Star, "Forever 31"; Author, Girl Logic: The Genius and the Absurdity
Alexis Pence, YouTube and Twitch Star, "LetsGetLexi"—Moderator
Iliza Shlesinger hit comedy gold when she became the only woman and youngest comedian to be named NBC's "Last Comic Standing" in 2008, and she's been on the rise ever since. She has starred in several hit Netflix comedy specials and is the creator and star of "Forever 31" on Hulu and the late-night show "Truth & Iliza" on Freeform. On all platforms, she provides a mix of feminism, social commentary, on-point voices and characters, and a fresh take on the comedy scene.
Now, Shlesinger brings her signature wit to her new book, Girl Logic: The Genius and the Absurdity—we know it'll be funny and insightful for both the men and women in the audience. Spend an evening with Iliza Shlesinger and get the inside scoop from one of comedy's rising talents.
Location: Marines' Memorial Theatre, 609 Sutter St., San Francisco
Time: 5:30 p.m. check-in, 6:30 p.m. program, 7:45 p.m. book signing
 All ticket sales are final and nonrefundable.