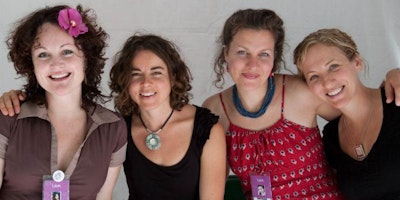 It's that time of year again: WINTERBLOOM!!

Aaand they're back...   WINTERBLOOM
! 
While we can't say we just love winter, we do adore these ladies!  
This is our 5th year hosting Winterbloom and they've sold out every show here.   (In other words, if you'd like to come, we suggest you snag tickets early!)
Winterbloom is (from left to right, above):
These women each have very succesful singer-wongwriter careers and they come together for just a few shows each year.   Fortunately, one of those is with us!   
If you've seen Winterbloom before, you don't need the sneak preview videos :).  If you haven't heard them, let's just say this is the perfect time to join the House Concerts for a Cause "Blind Faith Society."  
We've seen people literally moved to tears by the sheer beauty of these ladies singing together.   Even better, those same people were doubled over in laughter just ten minutes eariler.  
We hope you will join us for what has become our favorite musical holiday tradition!  


Our Cause: 
In the spirit of doing a little good for the world, we'll be collecting brand new bedding for families in transition!  This includes: sheets, pillowcases, blankets, comforters and mattress pads in twin, full and queen sizes.    
If you'd like to purchase items for a specific individual, just let us know and we can give you all the pertinent info.   Otherwise, we trust your good taste and judgement to find something cozy and warm for people who will soon have their own beds to sleep in.   
If you aren't able to join us on December 8th, but would still like to contribute bedding, please let us know and we'll coordinate with you to make that happen.   Likewise, if you'd like to pass along a donation and have us be your personal shopper, we're happy to do that as well.   
Please Know:  


This is an indoor "living room" event.  


We will be serving desserts and non-alcoholic beverages. 


You are welcome to BYO alcoholic beverages for your own consumption. 


If you have food allergies, just let us know when you purchase your tickets or contact us directly.


Portions of the evening may be recorded, filmed or photographed for use by Winterbloom or House Concerts for a Cause.


For those who may be affected, we have a dog in our home. 


Attendance is limited and purchases are non-refundable. 


Event address will be sent with your order confirmation.  




Event Timeline:


6:30 Doors open


7:00-9:30 Performance, with intermission


We really hope you can make it!
Hillary and Dave Kohler