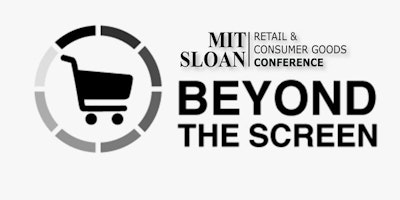 Beyond the Screen: MIT Sloan Retail & Consumer Goods Conference 2017
Welcome to MIT Sloan's inaugural Retail & Consumer Good Conference.  Coming December 8, 2017.
How tech is redefining the industry from concept to customer
Over the course of two days, Beyond The Screen aims to elevate the conversation around how the Retail and Consumer Good industries are engaging, integrating and innovating technology into the end to end business. From in-store Augmented Reality and 3-D prototyping to Big Data, learn how the major players are rising to the challenge and using technology to find, gain and maintain their competitive edge in this ever-changing global market place.
Agenda:
Friday, December 8, Location TBC:
6:00-9:00pm: Welcome reception, including a keynote speaker address at 7:00pm.  

Saturday, December 9, MIT Media Lab:
8:30-9:30am: Registration & Breakfast
9:45-10:45am: Opening Remarks, Keynote Speaker 2
11:00-12:00pm: Panels 1 & 2
12:00-1:00pm:  Lunch
1:15-2:15pm: Expo Fair
2:30-3:30pm: Panels 3 & 4
3:45-5:00pm: Closing Remarks, Keynote Speaker 3
5:00-7:00pm: Networking Time
For more information, please visit:  https://mitrcgconference.com/