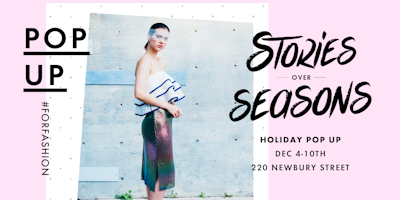 Stories over Seasons: Nineteenth Amendment Holiday Pop Up
YOU'RE INVITED!
Shop the next big names in fashion, first.
Nineteenth Amendment will be hosting a week of events in our shoppable pop-up showroom with contests, Designers-in-Residence, networking, cocktails, and more!
Chat with our specialists to learn more about our designers and pieces and get measured for your own garment, made on-demand in the USA.
Register for our FREE events below OR stop by to shop designer pre-sales December 4-10th 10 am - 6 pm EST:
12/5 *** Ice Cream Social (Media) Night
12/6 *** Stories over Seasons: Wonder Women
12/8 *** Stories from the Stock Room: Retail Breakfast
12/8  *** (Mini) Tree Lighting Holiday Party
Note: Space is limited for these events so please RSVP!
Pop-up closes it's doors SUNDAY 12/10 at 6 pm EST sharp - so get in before it goes!
Have questions? Email us at info@nineteenthamendment.com.
#FORFASHION @19thAmendment