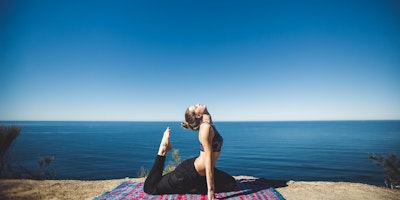 Intro Yoga with Kim
(For Current Port Members Only)
Intro to Yoga with Kim:
Both first timers and those with a beginners mind will find this class an invigorating and enlivening experience. Learn or remember your sun salutations and discover ways to open up your body quickly at your desk or in 5 minute breaks, anywhere. Give yourself an hour on Tuesdays to connect, relax and learn helpful tools for your entire week.
**Please do not eat 2 hours before class. Wear form fitted but comfortable clothes. Please arrive at least 5 minutes before class to settle in.
Kim's Bio: Kim started dabbling in yoga at 15 yrs old, diving deeply into yoga in college where she earned a degree in Dance Theater and in Psychology that focused in Biofeedback and body therapies. After a severe car accident at 22 she dove back into yoga, using it to heal then stretch the limits of the human body with Circus Arts. Over the last 10 years she has ran a few yoga and wellness studios and consulting for several others. She also co-founded an online Ayurvedic consulting company that launched with Yoga Journal and several other media outlets to help encourage the science of yogic eating and lifestyle into everyday life.

**Please note, at this time these classes are taught by a Kaiser Mall Community Manager and are included in your membership for the time being.