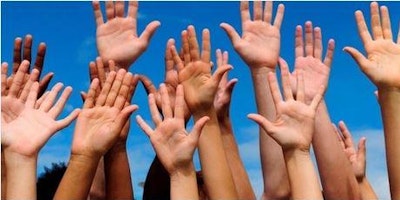 LOAA 2017 Thanksgiving Dinner Volunteer Event
As we enter the holiday season, what better way to make it special for those less fortunate than by joining your Leadership Oakland Alumni Association and other volunteers in supporting the City of Oakland's 26th Annual Thanksgiving Dinner by volunteering to serve meals?
The Thanksgiving Dinner event is a day where more than 2,000 low-income families, individuals, homeless and senior citizens are served a free holiday turkey feast with all the trimmings.
The dinner will be on Tuesday, Nov. 21, at the Oakland Marriott, located at 1001 Broadway. LOAA's volunteer shift is from 10 a.m. – 1 p.m.
LOAA t-shirts will be available for all volunteers (suggested donation for the t-shirts is $10). If you have already have a LOAA t-shirt, please wear it. 
Can't volunteer but would still like a LOAA t-shirt? They're only $15!
Please register by Friday, Nov. 10.  Each volunteer MUST register for the Thanksgiving event.  Walk-up volunteers will not be granted entry into the event.  Thanks again for helping and making our community a better place.
Please contact LOAA at leadershipoaklandalum@gmail.com for more information.