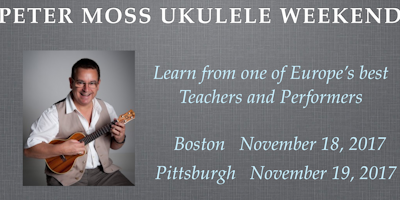 Peter Moss Ukulele Weekend Boston


Be prepared to play the ukulele better than you ever imagined!
In November, we welcome internationally renowned Uke Master and teacher Peter Moss to our shores for an inspiring and musical-life-changing workshop that no ukulele player should miss.
It will be a rare opportunity to learn from one of the UK's most talented ukulele performers.
Peter comes to Boston on Saturday, November 18 and to Pittsburgh on Sunday, November 19, in his Fall 2017 World Tour.




A WORKSHOP FOR ALL LEVELS
Learn ukulele from one of the world's best players. It will be an event for all levels of players -- those who want to dramatically improve in one day and those who simply want to be awed and inspired.




ABOUT PETER
Peter has been playing the ukulele since the age of 8, and now is known worldwide for his performing, recording, and teaching. He has toured America, Canada, Europe, and Australia and has been featured in articles and on BBC Radio and Television. Beyond performing, Peter teaches, both in workshops and over the Internet. He also provides lessons worldwide via SKYPE and often streams live sessions. His appearances and some his popular tutorial videos can be found on YouTube   https://www.youtube.com/user/kamaka8string and on his website petermossuke.com
 ---------------------------------------------------------------------------
ITINERARY
PART 1
9:30am                        
REGISTRATION
Please arrive in good time and also for the best seats.
10:00am – 11:45am  
IMPROVER'S WORKSHOP
No matter what ukulele styles you prefer, Peter will bring you the skills necessary to move you to the next level. You will train both your ears and your hands. You will leave with some valuable handouts to to help you practice and continue to improve.
12:00pm -12:45pm 
LUNCH BREAK 
Bring your own. Buy some snacks here.
1:00pm – 2:00pm
THE CONCERT
Peter will dazzle on both the ukulele and banjolele in an entertaining one hour variety concert.
--------------------------------------------------------------------------------
PART 2
2:15pm – 4:15pm
THE MASTER CLASS  
For the confident intermediate and also advanced player, (or anyone who wants to sit in and be inspired,) Peter will teach advanced strum techniques, fingerboard shortcuts and cheats, transposing and playing in different keys, five-to-eight chord endings, and a roster of other techniques and best practices enjoyed by some of the planet's best amateur and professional ukulele players.
4:30pm – 5pm
QUESTION AND ANSWER SESSION / CONCLUSION 
A review of the day and a chance to ASK PETER.
---------------------------------------------------------------------------------

COST

Improver's Session and Concert        $39
Master Class                                       $39
All three                                               $68

DISCOUNTED SKYPE LESSON

For those who register, Peter is offering a personalized, follow up one hour via SKYPE, for the monstrously discounted price of $35 or a three-lesson series for $95

NO RISK. REACHING CRITICAL MASS (Or perhaps CRITICAL MOSS)

To bring Peter to our shores, we need enough Boston and Pittsburgh enthusiasts to enroll EARLY!! But you do so at NO RISK. If we do not reach critical mass, your enrollment will be refunded in full.  
But wait. There's more! If you enroll by September 30, you will also receive a 15-minute personal SKYPE lesson in December FOR FREE. 
Seating is limited. Please enroll immediately to avoid disappointment (yours for missing a great event and ours for not seeing you there).

Be prepared to play better and have some fun in the process.