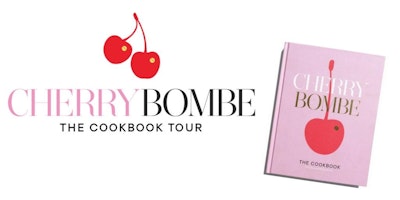 An Evening with Cherry Bombe at Alley Cambridge
An Evening with Cherry Bombe
featuring
KERRY DIAMOND, co-founder of Cherry Bombe
JODY ADAMS, chef and co-owner of TRADE, Saloniki, and Porto
JOANNE CHANG, owner of Myers + Chang
TRACY CHANG, owner of Pagu
JENNIFER BROUTIN FARAH, co-founder and CEO of SproutsIO
ASHLEY STANLEY, founder of Lovin' Spoonfuls
presenting
Cherry Bombe:
The Cookbook

Tickets on sale Oct 19 at 9am
This event includes a book signing 
Harvard Book Store welcomes KERRY DIAMOND, co-founder and editorial director of Cherry Bombe, for a moderated panel discussion with JODY ADAMS, TRACY CHANG, JOANNE CHANG, JENNIFER BROUTIN FARAH, and ASHLEY STANLEY. The evening will include refreshments and a book signing of the debut cookbook Cherry Bombe.
Learn more at http://www.harvard.com/event/an_evening_with_cherry_bombe/
All pre-sales tickets include a copy of Cherry Bombe, admission into the event, and a $5 coupon for use in the bookstore. Books bundled with pre-sale tickets may only be picked up at the venue the night of the event, and cannot be picked up in-store beforehand.

$5 tickets will also be available at Harvard Book Store and over the phone at 617-661-1515. Unless the event is sold out, any remaining tickets will be on sale at the door of the venue when doors open.

Tickets are non-refundable and non-returnable.