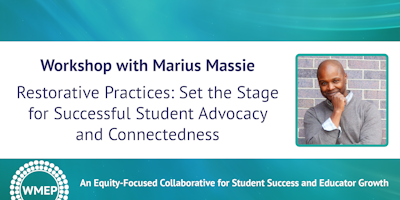 Restorative Practices: Set the Stage for Successful Student Advocacy and Connectedness
Course Description
What if you could limit student behaviors resulting in suspension?  What if you could build community during conflict?  What if you could repair harm to relationships and deepen trust?  Restorative Practices is a research-based approach operating from the premise that "human beings are happier, more cooperative and productive, and more likely to make positive change in their behavior when those in positions of authority do things with them, rather than to them or for them" (adapted from International Institute for Restorative Practices).  In this one-day course, participants will apply research-based competencies of restorative practices to prevent teacher burnout and minimize student behaviors resulting in suspension, with a focus on affective statements, restorative questions, proactive use of student data, and rejuvenation of school culture.
---
About the Presenter
Marius Massie has 17 years of experience as a youth development and behavior specialist, consultant, and trainer working with a variety of reputable organizations including: National Center for Community Education, Minnesota School-Age Care Alliance (MnSACA), TreeHouse, MN Teen Challenge, and Boys and Girls Club.  He has taught in a variety of positions leading student success at the University of Minnesota, YWCA of St. Paul, and Rasmussen College.  Serving a multitude of multi-generational and multicultural scholars, Marius is skilled at applying and teaching engagement and emotional intelligence principles to spur academic achievement, school connectedness, higher potential, and greater success. He is certified by the International Institute of Restorative Practices (IIRP) in restorative practices and the circle process.
---
A one-hour lunch break will occur around noon.  You may bring your own lunch or visit one of the local restaurants during this time; however, refrigeration is not available.
Cancellation Policy and Procedure (As of July 1, 2017)
All workshop registrants are subject to a five business day cancellation policy. If the individual fails to cancel prior to five business days from the start of the workshop, they will be billed a $100/day no-show fee. This fee covers the cost of materials and other administrative costs associated with the event. In the event of a multiple/day workshop, where the days are separated by weeks or months, each day in the session will be treated as a separate event in terms of the cancellation policy.