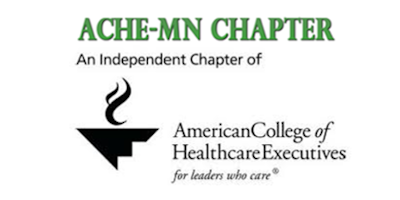 Linking Acute and Post-Acute Care Organizations: Collaboration vs. Ownership
ACHE-MN  and the University of Minnesota's 
Master in Healthcare Administration (MHA) Program,  present a panel discussion on: 
Linking Acute and Post-Acute Care Organizations: Collaboration Versus Ownership

Wednesday, November 15, 2017

University of Minnesota
Coffman Memorial Union
Mississippi Room – 3rd floor
300 Washington Ave. S.E.
Minneapolis, MN  55455
*Parking available in the East River Road Ramp on Campus
Agenda
5:45 - 6:30 pm             Social and Networking, Light Refreshments
6:30 – 8:00 pm            Panel Discussion
8:00 - 8:15 pm             Q & A, Closing, and Evaluations
Education Credits:   


1.5 hours, approved for 1.5 ACHE F2F Credits


1.5 Continuing Education Hours  approved by the Board of Examiners for Nursing Home Administrators under approval MN18-060


Target Audience:      Healthcare leaders  from acute care, post-acute care, and aging services organizations
Program Description:  Acute care and post-acute care organizations are striving to develop closer working relationships to improve patient care along the continuum.  These relationships are being formed through collaborative models as well as through ownership under a single corporate entity.  Each model has it challenges and opportunities to improve the care experience, improve care delivery and contain cost. 
Discussion:  This topic will be explored by a panel discussion of experts from acute and post-acute organizations operating under the owned or collaborative model.  The discussion will include such topics as:
1.       Description of the two models and how they operate
2.       Advantages and disadvantages of each in delivering care under the Triple Aim
3.       How models might be affected and evolve under payment reform (volume to value)
4.       Sharing risk
5.       Success stories in enhancing patient experience and quality, and reducing cost
6.       Future directions
Panel Moderators:
Lawrence Massa,   President & CEO, Minnesota Hospital Association
Gayle Kvenvold,     President, Leading Age of Minnesota
Panelists:
Discussing the Collaborative Model
Ben Bache-Wiig, MD, CCO & EVP, Allina Health
Julia Crist, VP of Operations, Allina Health Home and Community Service
Daniel A Lindh, President and CEO, Presbyterian Homes & Services, Inc.
Discussing the Owned Model
Craig Broman, President, St. Cloud Hospital & CentraCare Health Regional Hospitals
Susan Kratzke, VP/Administrator, St. Benedict's Senior Community, CentraCare Health
Discussing the Impact of Either Model on Care Delivery
Nick Schneeman, MD, CEO & Medical Director, Genevive
Amanda Tufano, Chief Operating Officer, Genevive
**  Panelist and Moderator Bio's will be posted to the ACHE-MN Website prior to the event.  
 http://minnesota.ache.org/
Learning Objectives:
1. Understand the structural differences of each model
2. Understand the challenges of each model in terms of:
                 o   Delivering care – ensuring quality                                                                                                                           o   Communication across the continuum                                                                                                                   o   Meeting consumer needs and expectations                                                                                                           o   Financing care delivery
3. Explore new insight on how models might evolve under reform:                                                                                             o   Sharing risk                                                                                                                                                             o   Meeting the Triple Aim