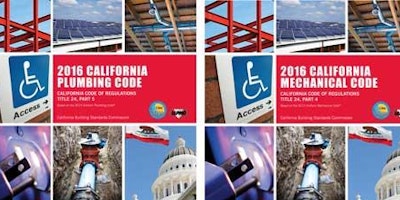 Overview of California Plumbing and Mechanical Codes



Synopsis:




After all the recent code changes, this class is intended to help put both the Plumbing and Mechanical Codes in to perspective by exploring the major provisions of the 2016 California Plumbing Code and 2016 California Mechanical Code, both old and new provisions.  The background behind many of the code requirements will be discussed to provide the participant with an understanding of the intent of the requirements and how to apply it to their everyday work.  Learn more about how products and materials are tested to the required standards; the methods available for confirming code compliance, and key information on what to look for while enforcing the code.  Please bring your code book. 
CEUs are available.  This class is taught by an ICC Preferred Provider.
Instructors:
John LaTorra is currently a Regional Manager for CSG Consultants.  He recently retired from the City of Redwood City where he was the Building and Inspection Manager.  John chaired the Drafting, Public Hearing and Code Development Committees for the first international code, the International Plumbing Code.  John has over 43 years of experience with municipal inspections and building codes and has been an instructor with a community college, state university and chapters for more than 39 years on building, energy, solar, mechanical and plumbing subjects.  Mr. LaTorra is a former board member with ICC, ICBO and IAPMO and is able to instruct on a wide range of subjects related to the IBC, IRC, UPC, UMC, IMC and IPC.
John Taecker, P.E. has worked for Underwriters Laboratories for over 30 years. He has a BS in Mechanical Engineering from Cal Poly, San Luis Obispo, and is a California Registered Professional Engineer in Safety Engineering. He is a nationally recognized speaker on building, mechanical, electrical, and plumbing products and installations.  John has served on the UMC and UPC Technical Committees and the International Mechanical Code Development Committee.
FAQs
Is lunch provided?
Yes, registration includes lunch along with snacks and refreshments.