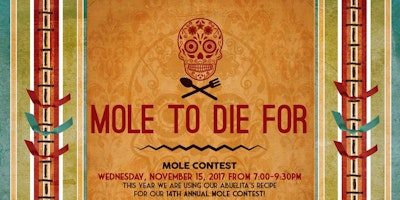 Mole to die for! 2017
This is your opportunity to savor delicious home-made Mole recipes, vote for your favorite, and celebrate the winners with cash prizes and special performances.

This year we are using our abuelita's recipe for our 14th Annual Mole Contest!!!

Performances TBD.

General Admission $7

Join us for the last day of our Day of the Dead Exhibit.
https://www.facebook.com/mccla/videos/10155364138244915/?active_tab=about