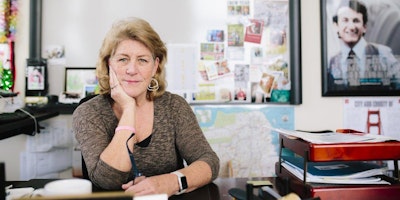 ShaperTalk w/ Anne Kronenberg, Harvey Milk's Campaign Manager
Join the San Francisco Global Shapers for a moderated talk with Anne Kronenberg, Harvey Milk's campaign manager, on the 40th anniversary of Harvey Milk's historic November 8, 1977 election to the San Francisco Board of Supervisors. 
This thought-provoking conversation with Kronenberg - who is an icon in California politics and the progressive movement - will occur steps away from San Francisco City Hall where she helped Harvey make his mark as a global symbol of LGBTQ and civil rights. Kronenberg was the key architect of the political strategy and approach that led to Milk's victory, which made him the first openly gay major elected official in the United States. 
Kronenberg will reflect on her work and the election night forty years ago that changed the world. She will discuss what young leaders and future generations can glean from her experience for the work ahead. 
ABOUT ANNE KRONENBERG 
Kronenberg is best known for being Harvey Milk's campaign manager during his historic San Francisco Board of Supervisors campaign in 1977 and his aide as he held that office until he and mayor George Moscone were assassinated. As an openly lesbian political activist, Kronenberg was noted for her instrumental role in the gay rights movement, both for Milk's campaign and in her own right,
Kronenberg appeared in the 1984 documentary film The Times of Harvey Milk and her role in Milk's life was portrayed in the Academy Award-winning 2008 film Milk. Kronenberg was one of the grand marshals of the 2009 New York City LGBT Pride parade, joining the film's writer Dustin Lance Black and AIDS activist Cleve Jones who also worked with Milk.

Kronenberg is currently the executive director of the San Francisco Department of Emergency Management, and she is known globally through her public appearances and as co-founder of the Harvey Milk Foundation.
Venue Details (Runway) 
- Parking is located at 846 Jessie St, San Francisco, CA 94103.
- If you BART, the closest stop is Civic Center / UN Plaza
- Please enter the building at the entrance with the black awning located closest to 9th St (next to Walgreens)
- Bring a valid photo ID for check-in and security will show you up to Runway on the 4th floor.
This event is co-hosted with the Sacramento Global Shapers hub.