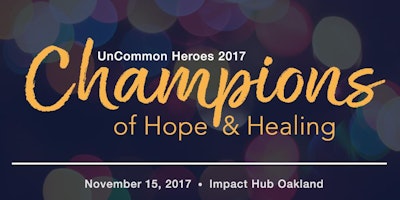 UnCommon Heroes: Champions of Hope and Healing


It's an UnCommon Celebration Honoring:
Elizabeth Calvin, Senior Advocate, Human Rights Watch
Nate Williams, President, Choices for Freedom
Daniel "Nane" Alejandrez, Executive Director, Santa Cruz Barrios Unidos

Presenters include:

Actor and Activist Danny Glover
Film Producer/Activist Scott Budnick, Founder of the Anti-Recidivism Coalition
Master of Ceremonies James Cavitt

Tickets: $100 general admission | $50 for non-profits | Free admission for formerly incarcerated
Film Circle Membership available for an additional donation.
Host Committee:
Michelle Alexander
Scott Budnick
Amanda Berger and Maurice Emsellem
Eddy Zheng
Anne Irwin
Penny Cooper
Dorsey Nunn
Betsy Fairbanks
Gina Clayton
Holly Delaney Cole and Glenn Cole
Join us as we honor Elizabeth Calvin, Nate Williams and Daniel "Nane" Alejandrez, – people who are working hard to bring both hope and healing to individuals and families devastated by harsh, misguided criminal justice policies. Elizabeth has authored and championed the most significant legislation in decades to guarantee that young people have a meaningful opportunity to come home from prison. Nate, a former UnCommon Law client, works as a mentor and regularly returns to prison to inspire others still locked inside. And Nane has been a champion in the fight for justice and humanity for young people since long before our laws recognized the differences between adults and children involved in serious crimes.
Food and drink generously provided by our sponsor partners:




With additional support from:
ixohudixuyot
http://doxycycline-cheapbuy.site/ - doxycycline-cheapbuy.site.ankor <a href="http://onlinebuycytotec.site/">onlinebuycytotec.site.ankor</a>