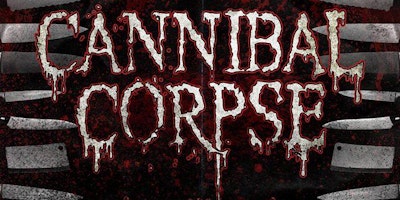 Cannibal Corpse (Wednesday) @ Slim's w/ Power Trip, Gatecreeper
Door 7 / Show 8
Formed in 1988, Buffalo born/Tampa raised Cannibal Corpse helped found, manipulate and transcend the very boundaries of death metal beginning with the scandalously controversial debut, Eaten Back To Life. Raising the eyebrows of inquisitive metalheads and incensed parents and politicians, the record - produced by Scott Burns at the now renowned Morrisound Studios - was more extreme and confrontational than anything the metal genre had ever known.
Proving technical dexterity, diabolic vocal grunts and a penchant for serial killers, zombies and gore of all shapes, sizes and textures, Cannibal Corpse won over the hearts of many a metal extremist and have since become a harrowing household name. Since the bands inception they have sold millions of albums world wide and show no sign of slowing or bowing down to the ever changing metal genre. Massive tours throughout the U.S. and Europe as well as Australia and South America only underscored the band's staying power… and all this with zero commercial radio presence and minimal video play (although the band did appear in the Hollywood blockbuster, Ace Ventura - Pet Detective).
TICKET INFORMATION 
• Slim's is an ALL AGES (6+) venue.

• No refunds or exchanges are permitted, except in the case of headliner cancellation or date change. Opening acts are subject to change.

• There is an 8 ticket limit per customer unless otherwise stated.

• NEVER buy third party tickets (Craigslist, StubHub, etc.) for over face value. Scalped tickets may not be honored.

• Once you purchase, you will receive an order confirmation email from Eventbrite on behalf of Slim's Presents.

• IMPORTANT: If you do not see your order confirmation in your inbox, make sure to check your junk/spam folder. If you still do not see your order confirmation, click here to access the Eventbrite help center.

• If you are having any other technical ticketing-related issues with your order, click here to contact Eventbrite. For general show info, click here.