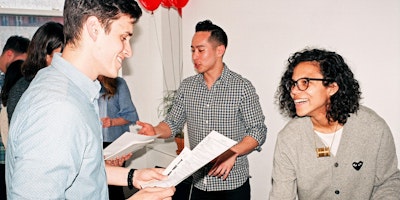 Meet & Hire Web Developers
Meet + Hire: Web Developers
Overview
Discover the next web developer who will get your business running at full-speed at General Assembly. At our exclusive event, recruiters and hiring managers will meet expert-trained, job-ready candidates.
Meet the Tech Talent
GA's full stack developers have spent 12 weeks coding, collaborating, and problem-solving in our rigorous, full-time Web Development Immersive (WDI). Trained by industry professionals in today's most relevant programming languages, tools, and techniques like JavaScript, Rails, and APIs, they have real experience working both independently and on teams, and are ready to bring their skills to your business.
What You'll Take Away
Our intimate networking environment is ideal for getting to know potential hires on a deeper level, going well beyond a cursory resume scan. The concentrated meet-and-greet format will allow you to:


Look through and discuss attendees' portfolio projects, which consist of functioning sites and apps that solve real-world business problems.


Chat about about their work process, competencies, and experience during the program to gain insight on how they tackle challenges, perform under pressure, and collaborate across teams.


Discover the ideal person who will fill the gaps in your dev team and push your business forward.


Find the right cultural fit for your company with informal, one-on-one conversations.


Make meaningful connections with top talent you can hire for current and future opportunities.


Why It Matters
Every digital company needs stellar tech talent to reach and hold onto success. Discover the ideal person to do the job in our untapped pool of exceptional developers — before the competition does. Meet potential hires who have trained in both technical skills and interpersonal techniques in General Assembly's intensive Web Development immersive program.
About our Sponsor: Robert Half Technology
Robert Half has a long company history of innovation, always guided by the belief that finding the right fit for a client and candidate creates an engaged and energized workforce. We pioneered the idea of professional staffing services nearly 70 years ago and, as the needs of businesses have evolved, so have we. Explore Robert Half's history, learn about our leadership and accolades and see how we have found opportunity in innovation to create a $5 billion professional services organization.
Can't make it? Email julie.carroll@generalassemb.ly to find out how you can still get in touch with our graduates.
By submitting your email address, you agree to receive updates about news, programs, and special events from General Assembly. Please refer to General Assembly's Terms of Service and Privacy Policy for more information.