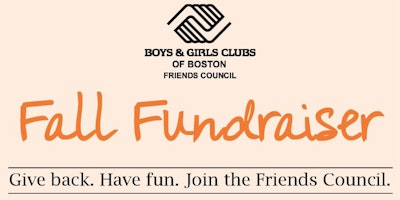 Friends Council Fall Fundraiser
Join the Friends Council of Boys & Girls Clubs of Boston for a fun and festive cocktail party! We're kicking off the season of giving with an evening of socializing with over cocktails, tasty bites, and brief remarks from some inspirational BGCB leaders… stay tuned for more details in the coming weeks!
About the Friends Council
Friends Council members support Boys & Girls Clubs of Boston with a gift of $25 per month or more, and connect with like-minded peers at social, volunteer, and fundraising events. Each member's support can help fund:



5 members' swimming lessons


10 members' local college tour experience


7 weeks of a cooking class for 9 to 12-year-old members


4 months of art supplies


10 hours of music lessons for 5 members


Questions? Learn more and join today at bgcb.org/friendscouncil, or contact Gena Ricciardi at gricciardi@bgcb.org or 617-994-4750.