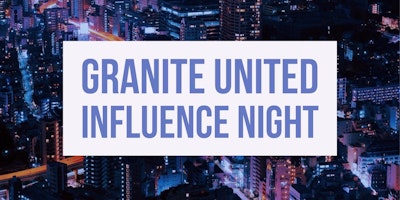 Influence Night- November 2017
Influence Night is an opportunity for all of our Central & Local Staff and Team Leads to come together under one roof to be encouraged, challenged, and equipped as leaders. Led by Pastor Milas, our Influence Night will help prepare us for this next season of ministry at Granite United Church. If you lead any group of people during the weekend or throughout the week this night is for you! 
Opportunities like this don't come around very often and we promise this will be a night that will fill you up as a leader. Let's have some fun, let's grow together, and let's get ready for what God wants to do in and through us at Granite United Church! 
Unfortunately, because of the size of this event, there will be no child care provided. Please, plan accordingly and we hope to see you there!