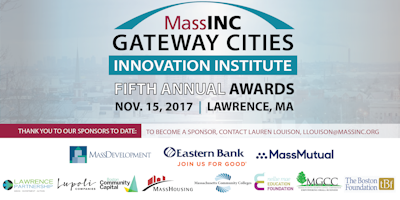 Gateway Cities Innovation Awards 2017
Please join us for the fifth annual Gateway Cities Innovation Awards and Summit! Come exchange ideas, meet fellow leaders, and celebrate the success and progress across the Gateway Cities.


Summit | 10 am to 12 pm
Keynote Address by Mark Davy, Founder, Futurecity
Mark Davy, an internationally recognized thought-leader in the ­fields of creative placemaking and cultural branding, will launch us into an exploration of the building vibrant places theme. Mark's opening presentation will be followed by three "shorts" led by Gateway City leaders deeply immersed in the work. The topics for these tightly focused interactive conversations will be public art, urban retail, and place-branding.

Awards Luncheon | 12:30 to 2 pm
Keynote Address by Arthur Jemison, Director of Housing and Revitalization, City of Detroit
Our luncheon will celebrate the innovative spirit of Gateway City leaders, recognize their many accomplishments, and re-energize the collaborative effort for the year to come. This year's luncheon will feature a keynote address from Arthur Jemison, an early leader of the Gateway Cites movement. Arthur will reflect on accomplishments over the past decade and galvanize us for the difficult work we must take on in the decade ahead.
---
Announcing the 2017 Innovation Award recipients!
Beyond Walls
Lynn
Art in the Park, Worcester
Worcester
The Lowell Waterways Vitality Initiative
Lowell
The Revolving Test Kitchen
Lawrence
Fitchburg Pride
Fitchburg
The Fuller Craft Museum and Greater Brockton Young Professionals
Brockton
Main Street Hospitality
Pittsfield
Nueva Esperanza Inc.
Holyoke
Stay tuned for the recipients of the Gateway Cities Champion Award!
---
For sponsorship information, please see our 2017 benefits of sponsorship, or contact Lauren Louison at (617)-224-1613 or llouison@massinc.org.