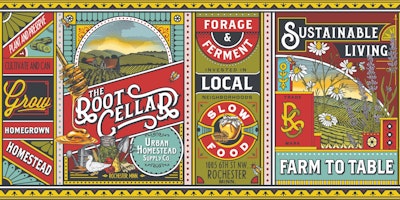 Vintage Living Lessons: 6 classes for the price of 5
Sign up for 6 Root Cellar's Vintage Living Classes for the price of 5!
Each class focuses on a vintage skill taught by an urban homesteading expert and recipes taught by Forager Chefs. Classes include hands-on learning, cooking demos, recipes, connections to local farmers and artists and a whole lot of fun (and freebies).
Class Schedule:
June 21: JAM! Waterbath Canning and Jam Making
July 19: CANNED! Pressure Cooker Canning and Tomatoes
August 16: PICKLES! Pickles, Chutneys, Relishes and More.
September 20: FERMENTED! Kombucha, Kefir, Veggies and Bread
October 18: CELLAR! Root Cellaring
November 15: TBA