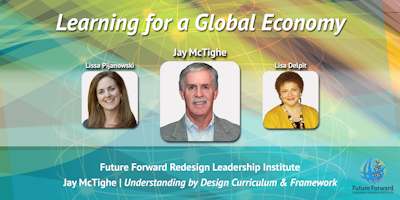 Jay McTighe | Understanding by Design Curriculum & Framework, 2-Day Session
***LOCATION UPDATE: Jay McTighe's sessions will now be held at WMEP's Professional Learning Center in Golden Valley.
4825 Olson Memorial Highway, Suite 100 | Golden Valley, MN 55422
Contact us with questions and/or directions: 612.752.7200
FUTURE FORWARD LEADERSHIP REDESIGN INSTITUTE
National Facilitator: Jay McTighe
Part One
November 14, 2017 | 8:30 a.m. – 3:30 p.m.
Understanding by Design Curriculum & Framework, Part I
Part Two
May 10, 2018 | 8:30 a.m. – 3:30 p.m.
Understanding by Design Curriculum & Framework, Part 2

Equity Problem of Practice:
What happens when learners' access to standards-based core instruction is limited due to preconceived deficits and skill gaps?

Equity-based Solution: Understanding by Design Curriculum and Framework with Jay McTighe
---
» LEARN MORE at www.futureforwardleadership.org!
---
A one-hour lunch break will occur around noon.  You may bring your own lunch or visit one of the local restaurants during this time; however, refrigeration is not available.
Cancellation Policy and Procedure (As of July 1, 2017)
All workshop registrants are subject to a five business day cancellation policy. If the individual fails to cancel prior to five business days from the start of the workshop, they will be billed a $100/day no-show fee. This fee covers the cost of materials and other administrative costs associated with the event. In the event of a multiple/day workshop, where the days are separated by weeks or months, each day in the session will be treated as a separate event in terms of the cancellation policy.