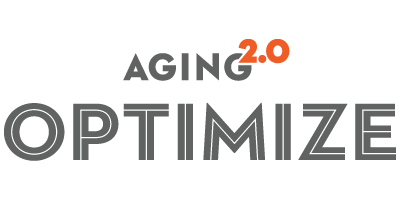 2017 Aging2.0 OPTIMIZE Conference
EXPERIENCE THE INTERSECTION OF AGING AND INNOVATION. 
OPTIMIZE -- Aging2.0's flagship event held in San Francisco on November 14-15 -- features captivating keynotes, exclusive networking opportunities, unique market insights and a new, one-of-a-kind "Experience Zone" - an expansive, multi-sensory showcase of the most innovative technology-enabled solutions designed to optimize mind, mobility, care and independence.
 For more information, please visit aging2.com/optimize 
---
WHEN: 
November 14-15, 2017
WHERE: 
San Francisco War Memorial | Herbst Theatre (401 Van Ness Ave. San Francisco, CA)
SPONSORSHIP: 
Maximize the value of your time and participation by increasing your brand awareness and rapport with key players. Inquire about sponsorship here. 
EXHIBITORS: 
More information about pricing and benefits will be available soon. In the meantime, please indicate your interest in exhibition by clicking here.
MORE INFORMATION: 
Please visit aging2.com/optimize 
CANCELLATION POLICY: 
All cancellations made on or before October 14, 2017 will receive a full refund. Cancellations made after October 14 are not subject to any refund. 
---
Disclaimers: By registering for, or attending, this event, you are agreeing to the following:
1. Photographs may be taken at the event and appear on social media. You are authorizing Aging2.0 to use your image, likeness and / or name on social media such as Facebook, Twitter, the Aging2.0 blog or other marketing materials in connection with the event. 
2. The organizers of this event, Aging2.0, and any of their employees, volunteers, members and representatives are not responsible for any injury, loss or damage of any kind sustained by any person while participating in this event.