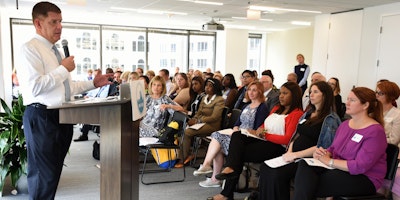 Membership Briefing - Providing Workplace Flexibility
Please join the Boston Women's Workforce Council for our third Membership Briefing of 2017 on the topic of "Providing Workplace Flexibility" We hope that this briefing will mirror the success of our July briefing, where Compact signers in attendance learned from panelists and shared their ideas about prioritizing compensation transparency. The briefing is free and open to all 100% Talent Compact signers. Doors will open at 7:30, and coffee and breakfast will be served.
Topic: Providing Workplace Flexibility
Date: Wednesday, November 15th
Time: 8-9:30AM (Doors open at 7:30 for coffee, breakfast, and networking)
Location: RSM US
80 City Square
Boston, MA 02129
Speakers:
Dilia Teixeira
, Office Services Manager, RSM US

Lydia Greene, SVP & Chief Human Resources Officer, Tufts Health Plan
Pamela Bates, Senior Vice President of Partner Operations, Shorelight Education
Kara Cronin, Director of Work/Life Strategies, Shawmut Design & Construction
Parking Information:
There is parking available in the Constitution Lot located behind the building. Please see this link for more details. Note: RSM does not validate parking.