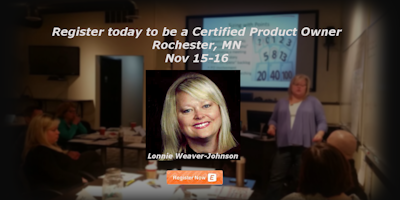 Certified Product Owner (CSPO) with Da Vinci Software
Instructor : Lonnie Weaver-Johnson
Certified Product Owner (CSPO) delivers a dynamic course filled with practical exercises and real-world examples. Experienced Scrum practitioners will walk away with ideas for improving their Scrum practices and students brand new to Scrum will gain a solid understanding of how to get started.  Similar to the CSM course, the CSPO class also goes deeper on the topics more related to the role of the Product Owner. There is more emphasis on the PO role in Scrum with topics such as using a vision statement to guide the team, creating a product roadmap, and release planning. Learn about the maintenance of the product backlog and practice writing user stories using user roles and personas.



Scrum history and the importance of the 5 Scrum Values: Commitment, Focus, Openness, Courage & Respect




The Agile Manifesto, and the difference between Agile and Scrum




What environments and projects are best suited for Scrum




Empiricism and how it works to control a project




The Scrum framework – how does it work?



Scrum roles - ScrumMaster, Product Owner and Team




Sharing the Vision




Working with Stakeholders




Using a Roadmap




Estimating and planning




Writing adn working with User Stories




Understanding and drafting Acceptance Criteria




Prioritizing the Product Backlog




Accepting or Rejecting the work



Ideal learners would be business analysts, project managers, product managers, business managers, executives, and anyone seeking to understand the Product Owner Role and learning the benefits that Scrum can bring to the business.
---
Da Vinci Software is a premier provider of Agile and technology solutions.  Our focus is guiding business to software delivery excellence through the application of Agile methods and top notch technology resources