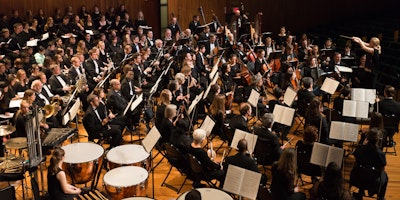 2017 - 2018 Full Season Subscription
Please join us as we celebrate our 43nd season!
A Full Season Subscription provides you with access to all of our ticketed concerts*:



Mahler and Mozart - Sunday, November 12, 2017 @ 4PM;




Holiday Pops - Saturday, December 9, 2017 @ 7PM;




Family Concerts: The Journey of Phillis Wheatley - Sunday, January 21, 2018 @ 2PM OR 4PM;




Tchaikovsky and Gershwin - Sunday, March 25, 2018 @ 4PM; and




A Midsummer Night's Dance - Saturday, June 16, 2018 @ 8PM.



*Please note that our Pops on the Lawn concert (Sunday, June 24, 2018 @ 3PM) is free to attend and is not a ticketed concert.
Patrons will receive specific tickets for each concert approximately one week prior to the concert.
By purchasing a Full Season Subscription, you will save $20 on adults tickets and $15 on students / seniors tickets. Buy your Full Season Subscription today!
Locations:
Mahler and Mozart

,

Tchaikovsky and Gershwin

, and

A Midsummer Night's Dance

- Kresge Auditorium at MIT (48 Mass. Ave, Cambridge, MA 02139)
Holiday Pops and Family Concerts - The Center for Arts at the Armory (191 Highland Ave, Somerville, MA 02143)
Pops on the Lawn - Danehy Park (

99 Sherman St, Cambridge, MA 02138

)