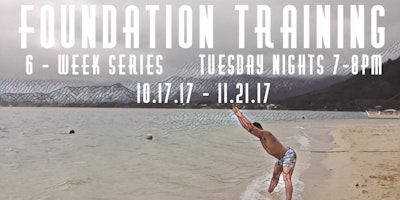 Foundation Training Series
Foundation Training 6 Week Progressive Series
Foundation Training is a simple and effective corrective exercise modality that brings the body to its full potential by anchoring the pelvis, decompressing the spine and integrating muscle chains. It's a re-wiring of the poor patterns ingrained in our bodies over a lifetime that were causing pain, deterioration and inefficiency.
It's a way for your body to feel really, really good. 
There are many nuances to the program that work to realign and activate the whole body. Foundation Training trains you to be strong in proper posture with proper movement patterns so that strong, pain-free movement becomes natural and normal. These movements are not a replacement for anything else, rather a system that you can layer onto any activity you do whether that is Pilates, Yoga, Hiking, playing with your kids or sitting a desk. When the body moves well, it feels well!
Date: Tuesday Evenings 
10/17 - 11/21
Time: 7:00 - 8:00 pm
Location: PilatesMN
Registration: 
$180 for 6 week course, spots are limited. 
Please RSVP to:
Matt: drmatt@thecenterofmvmt.com
or
Pam: pampilatesmn@gmail.com