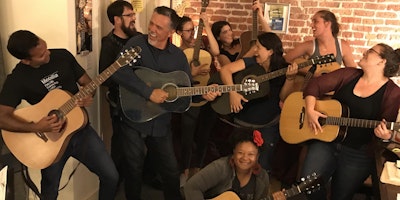 Learn•Master•Jam! Fall 2017 - 2 day/time options: Mondays 7:45pm or Tuesdays 7pm -An 8 Week Workshop for people excited to play guitar!
Please note to use the below day and times - the Eventbrite heading doesn't account for that there are 2 class times ofered.
Learn•Master•Jam! is offered:
Mondays 7:45pm
October 16  - December 4
or
Tuesdays 7- 8pm
October 17  - December 5
* BEST WAY TO SYNTHESIZE ALL YOUR LEARNING THUS FAR! 
Focus on practicing & using all the skillsets you've been working on!
You'll walk away with complete songs completely down and performance ready!

The lowdown: This class will be replacing the Level 6 and the Upper Level classes.  Learn•Master•Jam will incorporate aspects of Level 6, of the singing and songwriting classes, and skillsets from all Levels.  

I'm really excited about a class that will give you the time and opportunity to USE the skills you've been developing while developing them further.

We'll be focusing on learning to study specific songs more deeply so that you'll walk away having them mastered.  We'll be learning, understanding, charting, playing and memorizing complete songs.

You'll Feel more confident in your playing! (alone & with others!)

We'll be working with using & understanding:
improvisation,
chord voicings,
chord progressions,
ear training,
rhythm techniques,
melodic fills and soloing,
playing/jamming with other people,
songwriting,
singing
...and more!
You'll get personal coaching and group support on setting priorities for what YOU want to get better at!

Please feel free to contact me if you have any questions about this new class.
Like all classes, there is:
• Help and guidance with singing and playing
• A dynamic group experience (lots of cool people!)

This class can be repeated as the songs are always new and your developing ongoing!
Each lesson is tailored to create a motivating atmosphere where you can experience your progress while learning to play the songs that you love!
*Note: Satisfaction is Guaranteed. 
If you're nervous about committing to 8 weeks, you are welcome to try the first class
for the single class rate ($40) to see if the level feels like a good fit.

*Refund Policy:  
Once you have committed to the full session, there are no refunds. 
Every class has its own password-protected web page created just for you! 
After each lesson I post a video that goes over the whole lesson, as well as the in-class
handouts which are available for download. It's inevitable that people travel, get sick, 
have scheduling conflicts. When you miss a class or classes, 
the website enables you to keep up.
 5-Star Rating on Yelp and  video testimonials! 
If you have any questions, please email Carrie or call her at 415-305-8494
sfguitarlessons.com