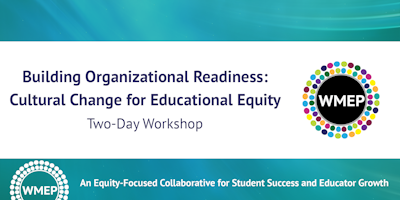 Building Organizational Readiness: Cultural Change for Educational Equity
This is a two-day workshop; both sessions must be attended in succession:


October 16, 2017, and


November 27, 2017.


8:30 a.m. – 3:30 p.m. both days

Course Description
Developing a readiness for equity requires a knowledge of historic and current patterns of disparity and an understanding of how our personal, professional, and organizational identity influence these patterns through our decision-making.  While there are many tools and trainings to help us evaluate our own behaviors for bias, how do we apply the training and tools effectively in our day-to-day professional lives?  What are the critical behaviors, the things we do and say, that can eliminate persisting patterns of disparity?
In this two-day course, participants will engage in research-based discourse for building a more equitable lens for decision-making.  Participants can expect to build the background knowledge and skills necessary for changing how they make decisions in their organizations.  This training is designed to help participants develop a lens of equity by increasing essential background knowledge around factors that contribute to persisting patterns of disparity.  Participants will also leave the course armed with tools to effectively disrupt these patterns.
---
A one-hour lunch break will occur around noon.  You may bring your own lunch or visit one of the local restaurants during this time; however, refrigeration is not available.
Cancellation Policy and Procedure (As of July 1, 2017)
All workshop registrants are subject to a five business day cancellation policy. If the individual fails to cancel prior to five business days from the start of the workshop, they will be billed a $100/day no-show fee. This fee covers the cost of materials and other administrative costs associated with the event. In the event of a multiple/day workshop, where the days are separated by weeks or months, each day in the session will be treated as a separate event in terms of the cancellation policy.