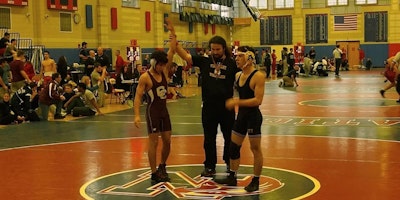 2017 Fall Concord-Carlisle Youth Wrestling Registration
Concord-Carlisle Youth Wrestling
Fall 2017 Session

ABOUT 
Concord-Carlisle Youth Wrestling (CCYW) is a non-profit organization made in part by the Concord-Carlisle Wrestling Booster club. CCYW is affiliated with the Massachusetts Youth Wrestling Association and was created to introduce amateur folk style wrestling to students grades 3-8. The club is funded by a portion of each member's registration fee as well as other fundraising efforts; donations are always welcome.

 
The club is run by volunteer coaches who intend to develop young wrestlers in a competitive wrestling environment. The goal is to prepare youth wrestlers to compete, to equip the wrestlers with the skills to overcome challenges, and to act as a feeder program for the CC High School wrestling team.
- No prior experience necessary


Schedule:
10 sessions starting October 10th and running through November 14th
Tuesday and Thursday evenings 5:30 PM - 7:00 PM
- All are encouraged to arrive early to get prepared/ dressed appropriately for practice
- (No practice on Tuesday, October 31st)
Located at the Concord-Carlisle High School in the wrestling room
- The Northwest part of the building - closest to the outdoor sports fields


Pricing:
The fee is $150 and covers CCHS facility rental fees, equipment, insurance, and a t-shirt.
For additional information please contact:
Jason Mestancik
Concord Youth Wrestling
Email: concordyouthwrestling@gmail.com  
Website: www.concordyouthwrestling.com