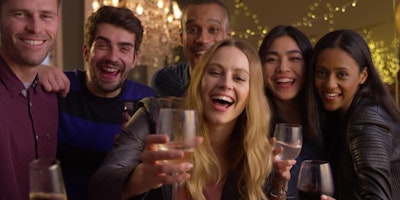 Smartypants Singles Mix & Match Happy Hour - Boston (BB)
Join 20-30 other professionals (most will be single)  for the friendliest social networking event in Boston. Expect to meet well-educated single professionals from a variety of cultures and backgrounds ages 25-45.
Minibar has graciously offered our group the semi-private space of their bar for this event.
~~~~~~~~~~~~~~~~~~~~~~~~~~~~~~~~~~~~~
$10 in advance/$20 at door
Here is how it works..
-Upon arrive you will be given a name tag with your  name.
-We will have a casual playing card ice breaker game that will give you a way to approach and talk to everyone at the event.
ALL GUESTS ARE WELCOME TO EXCHANGE BUSINESS CARDS AND CONTACT INFO!
Can I come alone?  Yes, 98% of those attending will likely come on their own.
Dress code?  Be comfortable but keep it neat.
Do I have to be single to attend? No, but most attendees will be single.
Can you tell me the gender/age ratio of attendees? Historically, about 30-40% of attendees register in the last 36 hours. As a result, we won't have an approximate answer for you. Additionally, we have no control over who shows up and who doesn't. So if we tell you 20 m/f have registered, there's a really good chance 3-5 of those people will flake. We don't want to give a number and not meet that expectation. If enough people don't register, we will cancel and refund you if you choose or offer you a transfer to another event.
CANCELLATION POLICY

If you notify us at least 3 days in advance via email that you can not attend, we can provide a credit for you  of the same value for another event. Refunds are provided only in the event that we cancel the event, with the exception of weather related cancellations , as we have no control over the weather. (Venues sometimes apply cancelationm fees of $100-$200 dollars or advance payment for food orders.) In the event of a weather related cancellation all attendees are provided a credit code of the same value to use towards another event.