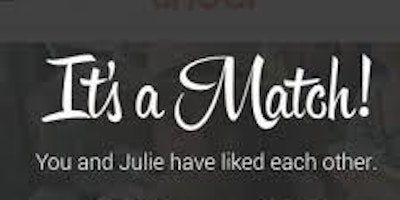 Swipe Right Speeddating for Boston Single Professionals - 2017
How it will work:

Register for the event and fill out the mini-bio.  Bio will include 6 quick questions: first name, age, city where you live, occupation, educational status, interests. Now, instead of wasting time each speed round asking your date their basic details and interests, you'll have all that information.
Check in at the event and receive a name tag, first table number assignment, and the bios of all the members of the opposite sex. Grab a drink and take a few minutes to look over the bios and mingle.
Meet each members of the opposite sex for three minutes each.
After the final round, the host will be standing at the check in station waiting for you to submit your selections. You'll fill out a small sheet of paper with your first name and contact info of choice, then slip it into the envelope with your match's first name on it. Note: This will be done individually so each guest has privacy while turning their matches.
After the last person submits their matches, the host will hand them out to each guest as they leave. Everybody will get an envelope.  People who don't receive matches will still have a surprise inside their envelope.
FAST FACTS - PLEASE READ:
*Business casual attire requested. No sneakers, shorts, t-shirts or active wear and no ripped jeans.
*Matches are tabulated on site and given to attendees before they leave the event.

*Event lasts about 90 minutes give or take 10 minutes between check-in and all speeddating rounds.