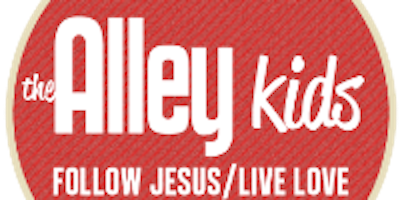 AlleyKids (Sunday School) Registration 2017-18
AlleyKids is a ministry of theAlley Church in Cottage Grove, MN. We exist to come alongside the parents of kids ages 2 through 5th grade, equipping them to grow deeper in their knowledge of Jesus, and their relationship with Him through age-appropriate, Bible-based teaching time on Sunday mornings. Each week will include large group activities and small group time.  (ALLEYtwos has a modified version of the AlleyKids curriculum)
Our 2016-2017 teaching year will kick-off on Sunday, September 11, with AlleyKids meeting weekly on Sunday mornings during the school year. Children will be dismissed to their classes following the music.   The AK Finale will be May 20th, 2018, and will then we'll break for the summer.   
If you were a part of AlleyKids last year, we have already pre-registered you!
Follow Jesus- Live Love
FAQs
What is the minimum age for participation in AlleyKids? 
Our ALLEYtwos program requires that kids be age 2 by September 1, 2017. 
Kids starting Pre-K must be 3 years old and potty trained by September 1. 
What about my junior or senior high schooler? 
AlleyTeens welcomes kids from 6th to 12th grade in their junior and senior high ministry groups.   Contact daneggum@thealley.org for more info on our AlleyTeens ministry. 
Can my child only attend at the service time that I register for? 
To help us plan and manage resources, we ask that you choose a primary time to attend. But, on weeks where your family schedule necessitates a shift, we welcome your child(ren) at either service.