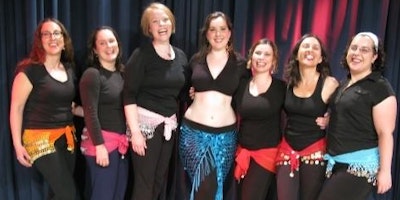 Discover Belly Dance Level 1 - Sunday Offering
Shake Off Your Troubles

Do you need more joy in your life? 
Let go of what's worrying you, relax, and bring the joy back into your life in belly dance class.
This class will get you moving, starting from the ground-up. It emphasizes safe and correct technique, creativity, and fun!
You'll learn:
- Dance posture, so you can do the moves correctly, safely, and beautifully
- Classic belly dance moves
- Traveling steps
- Graceful arm movements
- Combinations, to get you dancing right away
- Elementary improvisation skills, so you can let go and just dance
- Introductory finger cymbals

Level 1 is a good choice for complete newbies and beginners with up to a year of recent classroom experience.
Suitable for all ages (preteen+), shapes, sizes, genders, and fitness levels. To maintain a safe learning environment, a strict body-positive policy is in effect.

Sundays, 11-12:30pm
11 weeks: 9/10/2017 – 12/10/2017
(No class on October 8th, November 12th and November 27th)
Price: $250 for the full session, or $28/week drop-in, space permitting.
We've had classes sell out for 14 out of the last 17 semesters, so early registration is recommended!
Register here now and learn more at:
http://www.BellyDanceSomerville.com/join-the-class/

STILL NOT SURE?
Check out my free online class (beginner level) at:
http://www.BellyDanceSomerville.com/take-a-free-class-online/
Or contact me at nadira@nadirajamal.com I'll be happy to discuss any questions or concerns.
NOT FREE ON SUNDAYS?
We also have a Level 1 offering on Monday evenings:

NOT A BEGINNER?

Check out Level 2, Skills & Zils:

https://l2wed.eventbrite.com

or Level 3, Performer's Master Class:

https://l3wed.eventbrite.com

Happy Dancing!
Nadira

Nadira Jamal
The Belly Dance Geek™
nadira@nadirajamal.com
http://www.BellyDanceSomerville.com
Don't Be a Stranger!
Tweet me:
https://twitter.com/NadiraJamal
Say hi on Facebook:
https://www.facebook.com/nadirajamalbellydance
Refund Policy

What's the refund policy?
All payments are final and non-refundable, and cannot be carried over to future sessions.

If you decide not to continue with the class, you can transfer your registration to another person, if that person meets the requirements for this offering, and joins by the third week of the class.  
You're also welcome to transfer to another class offering in the same session (space permitting) if you meet the requirements for that offering and join by the third week of the class. 
(Transfers after the third week will be considered on a case-by-case basis.)