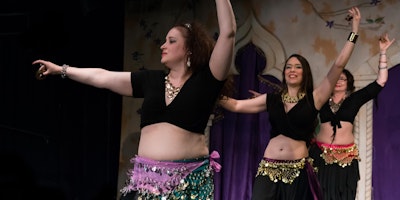 Skills & Zils: Belly Dance Somerville Level 2
SKILLS & ZILS
Ready to move beyond the basics of belly dance?
In Level 1, you built your technical foundation. In this class, you'll start building your performance foundation.
You'll learn:
- More challenging technique
- Traveling steps
- Shimmy layering
- Improvisation skills
- Stagecraft and performance skills
- Finger cymbals
Wednesdays, 7:45-9:15pm
12 weeks: 9/6/2017 – 12/13/2017
(There will be no class on 9/13 and 11/22, plus one date TBD)
Please save December 20th as a makeup date.
Price: $270 for the session or $28 per week drop-in (space permitting).
Register here now and learn more at:
http://www.bellydancesomerville.com/join-the-class/#Level2


Level: Suitable for advanced beginners through intermediate. If you're new to Level 2, or to my classes, please contact me at nadira@nadirajamal.com to discuss placement.

Open to: qualified students of all genders
(Note: Serious male students are very welcome, but are asked to contact Nadira before registering)
Requirements: You will need a set of finger cymbals for this class. I have a limited number for sale in class, or contact me for guidelines if you'd like to shop elsewhere.
Classes are limited to 15 students, so I can provide individual attention.
Check out my other class offerings:
Sunday Level 1:  https://l1sun.eventbrite.com

Monday Level 1:  https://monl1.eventbrite.com
Wednesday Level 2:  https://l2wed.eventbrite.com


Happy Dancing!
Nadira

Nadira Jamal
The Belly Dance Geek™
nadira@nadirajamal.com
http://www.BellyDanceSomerville.com
Don't Be a Stranger!
Tweet me:  https://twitter.com/NadiraJamal
Say hi on Facebook:   https://www.facebook.com/BellyDanceSomerville/
Refund Policy

What's the refund policy?
All payments are final and non-refundable, and cannot be carried over to future sessions.

If you decide not to continue with the class, you can transfer your registration to another person, if that person meets the requirements for this offering, and joins by the third week of the class.  
You're also welcome to transfer to another class offering in the same session (space permitting) if you meet the requirements for that offering and join by the third week of the class. 
(Transfers after the third week will be considered on a case-by-case basis.)