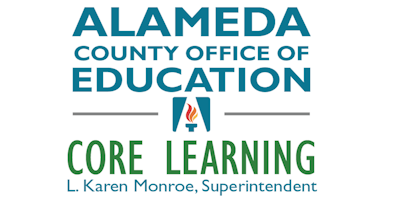 2017-2018 Core Coaching Network
The Alameda County Core Learning Department invites you to participate in our Core Coaching Network! This powerful forum will equip you with the tools you need to implement the Common Core State Standards and Next Generations Science Standards in a meaningful way. The network is specifically designed for both district-level and site-level instructional leaders (principals, teacher-leaders, coaches) who are charged with supporting implementation plans and strategies aligned with state standards and beyond.
In the Core Coaching Network, you will:



Learn and be able to share best leadership practices for adult learning, as well as for facilitating school-wide and/or district-wide transformation




Develop a strong community through shared expertise and time to network with neighboring districts




Deepen your content expertise and CCSS/NGSS implementation readiness




Advance your design and delivery of CCSS/NGSS aligned curriculum, instruction, and professional development and coaching, including the implementation of cutting-edge technology tools




Strengthen your systems thinking and strategic planning practices



Network participants will meet on the first Friday of each month: 



9-1-2017




10-6-2017




11-3-2017




12-1-2017




1-12-2018




2-2-2018




3-2-2018




4-6-2018




5-4-2018



Network structure is as follows:
9:00-10:15 General Session
10:15-10:30 Break
10:30-12:00 Break Out Sessions (Literacy, Math, Science)
Please note the following important details:





Purchase Orders (PO's) must be received prior to the first date of attendance.  


Please email request for invoice and copies of PO's to literacyteam@acoe.org.



Your registration allows your district to send an unlimited amount of educational leaders to each network meeting. However, due to meeting space limitations, pre-registration is required. Please look for an RSVP reminder before each meeting.



These are technology-infused meetings; please bring your laptop or tablet.



Questions? Contact Janice Medel at jmedel@acoe.org or (510) 670-7710