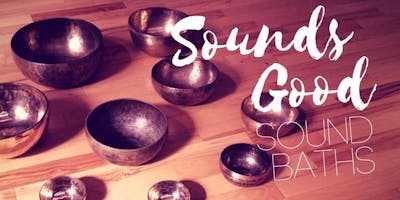 Sounds Good Sound Bath: 3rd Tuesdays
A Sound Bath is a live, immersive, meditative experience which works acoustically on your brain, body, and soul. As you sit or lie down with eyes closed, sound vibrations wash over you, taking you on an inward journey. Similar to meditation, sound baths stimulate your parasympathetic nervous system. You'll leave feeling relaxed, centered, and rejuvenated. Sound Healing is an ancient-modern practice which comes in many forms across all cultures. Alissa combines the harmony of an array of Tibetan singing bowls with her East-West vocal stylings accompanied by shruti box.  
Please arrive early to get settled. Doors will close 5 minutes after our start time to respect the experience of our guests.
What's provided:


Yoga props: blankets, bolsters, straps (supplies are limited so bring a yoga mat if you can!)


Changing rooms


What to bring:


Wear comfortable clothing (and warm layers during the winter)


Thicker pads / camping pads are great for lying down comfortably for ~45 minutes


Eye mask or eye pillow


Suggested Donation $15-$30 per person.