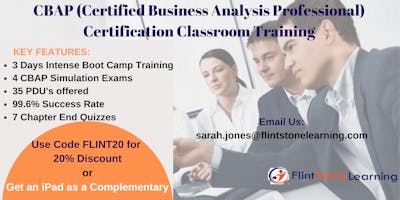 CBAP (Certified Business Analysis Professional) Certification Training In Boston, MA
About Certified Business Analysis Professional (CBAP®):
Certified Business Analysis Professional (CBAP®) designation  is designed to help professionals to achieve new skills and expertise in advanced documentation, efficient planning, and creation of business solutions. This CBAP exam preparation course coordinate to the high standards set by IIBA® and will ensure continued success in the field of business analysis. Professionals with CBAP business analyst certification will be able to stay relevant with rapid.
Who should Enroll:
•    Individuals with significant experience in business analysis
•    Individuals with a CCBA™ designation
•    Product Managers
•    Non-BA consultants
•    Trainers

Key Features:

    2/3 days of intense classroom training
    98.6% pass rate
    7 chapter end quizzes
    4 CBAP simulation exams
    35 PDU's offered
    10 hours of high quality E-learning content

 We guaranteed that, our classroom trainings are confirmed to run with neither cancellation nor rescheduling.
You can confidently make your training plan with our confirmed training sessions.

Use FLINT20 to Get 20% Discount on our Special Price.
                           Or
Get an iPad as a Complementary, if you register on or before 15 days prior to the training date.


Other Courses: CAPM | PMP | LSSBB | Combo LSSGB&LSSBB |LSSGB | CSM | PMI-ACP

Once you register with us, we will enable the access to our e-learning and exam simulators post successful registration.
Looking  forward for your registration with us.

If you have any queries please write an email to sarah.jones@flintstonelearning.com or Please visit www.flintstonelearning.com for more details.