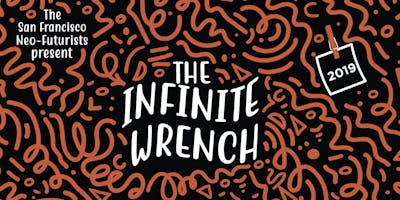 The Infinite Wrench
50 weekends a year, the critically-acclaimed San Francisco Neo-Futurists present The Infinite Wrench, an attempt to perform 30 bite-sized plays in a frantic race against the clock, in an order determined by you, the audience. Each week, the ensemble offers up new plays ranging from the personal, to the political, to the profoundly WTF, all truthful and inspired by the lived experiences of the performers. With The Infinite Wrench, the SF Neo-Futurists promise to break the fourth wall and maybe your heart but never your wallet in this ongoing, ever-changing show the SF Chronicle calls "an underground power generator." We hear it's a great first date, too.
Please note: The Infinite Wrench is all ages; however, any given performance may contain cursing and "adult" themes. If you have questions about show content, email info@sfneofuturists.com.
Advance ticket sales close one hour prior to showtime for each performance. Tickets are also available for purchase at the door for $13 + the roll of a 6-sided die.
PLEASE NOTE: There is no late seating. Please arrive early.
---
PianoFight's not just a theater, it's also a restaurant and bar!
★★★★½ on Yelp
★★★★½ on Google
★★★★★ on Facebook
"Reasonably priced New American bites and cocktails in an unpretentious setting" - Zagat
"The best party spot in the neighborhood" - The Bay Bridged
"A hot SF scene" - SF Chronicle
If you plan on dining, we recommend you arrive 1.5 hours early so you have plenty of time to eat before the show. Restaurant seating is first come first serve. Drinks are always allowed in the theaters.
PARKING
Street parking is free after 6pm. We're located 2 blocks from Powell BART, numerous muni lines and there are 3 parking lots within 1 block.