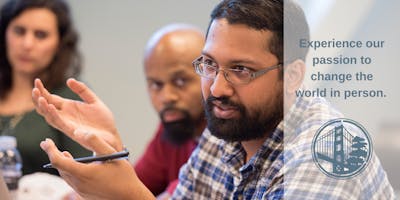 Presidio Graduate School, San Francisco Class Tour - Fall 2019
"At PGS, instead of learning how it was done in the past, I learned to create how it will be done in the future." 
-Libby Johnson McKee, MBA, Director, Amazon.com
Find out if Presidio Graduate School is a good fit for you by joining us during a class tour this month. All students meet once a month for in-person classes during our four-day "Residency". By attending a class tour, you will have the unique opportunity to experience the Presidian culture first hand and sit-in on typically two or three classes. You will also have the chance to ask students and admissions team questions during our lunch session between 12:30-1:30pm.
Class Tours take place on both Friday and Saturday each month with lunch provided. 
Due to popular demand, space is limited and is based on a first-come, first-serve basis. Please be sure to register early to reserve your spot. Upon registering, you will receive more details about your class tour. If you have any questions at any time, please email the admissions team: admissions@presidio.edu or call 415-655-8960. In addition, let us know if you're unable to make the in-person class tour. Looking forward to meeting you soon!

Please note: Our classes are held in Downtown San Francisco, not at our office headquarters in the Presidio. Please use the address listed on this event invitation for your visit, not our google address.