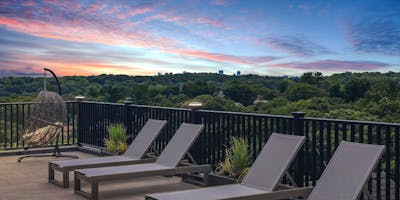 Rooftop Yoga at Ironwood with Laura Nicole Martone
Come join Laura Nicole Martone for Vinyasa Yoga on the rooftop at Ironwood Apartments located at 167 Fairmount Ave Lynn, MA 01905.
Vinyasa yoga is a fluid sequence of postures, transitioning from one to the next while linking breath to movement. This class can be easily modified based on your experience level. Whether you are new to yoga or have been practicing for decades, all are welcome and encouraged to join. 
Please bring your mat & blocks. If you don't have them, we will provided limited extras for you to borrow.
If you are not a resident of Ironwood, upon arrival at the building please park on the right hand side of the building or on the street. You can call Laura from the call box at the front door and she can buzz you in. Take the elevator up to the 5th floor and find a spot in the class!
Rooftop opens 15 minutes before class please arive around that time as door will lock at the start of class! 
Dont forget sunscreen if needed as we will be fully exposed to the sun during the class!
- Friday & Sunday classes are an All Level's Vinyasa Class -